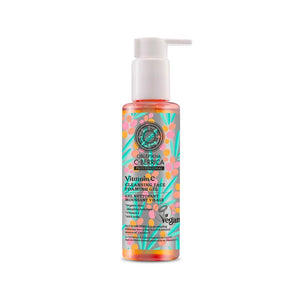 وصف المنتج
غسول يعزز نضارة البشرة والترطيب وملمس البشرة بفضل احتوائه على مقشرات الفواكة وفيتامين سي والنبتة العضوية التاي.

145ml
Description
THIS GEL IS PERFECT FOR EVERYDAY USE! IT GENTLY CLEANSES YOUR SKIN AND GIVES A FEELING OF FRESHNESS.
Organic Altai Oblepikha Hydrolate promotes the improvement of skin's overall condition by boosting elasticity and hydration.
Vitamin C helps to enhance your skin's natural defense system, speeding up the repair process.
AHA Acids improve skin texture, tone and leave you with a brighter-looking complexion.
145ml