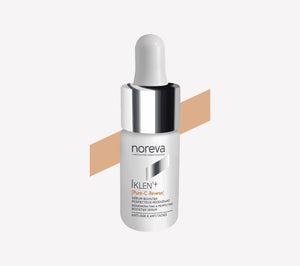 For all skin types.
For the face.
Iklen ® + Booster Serum [Pure-C-Reverse] is an anti-aging depigmenting treatment that smoothes fine lines and wrinkles, reduces spots and helps the skin regain its natural radiance.
Its formula based on pure vitamin C and hyaluronic acid boosts youthfulness from 7 days.
How to?
Pure vitamin C (10%) acts in synergy with vitamin PP and 4-butylresorcinol to regulate the production of melanin and limit the appearance of pigment spots.
Pure vitamin C (10%) acts in synergy with vitamin PP to reduce wrinkles and even out skin tone.
Medium molecular weight biomimetic hyaluronic acid has a smoothing and plumping action.
Vitamin PP will also stimulate collagen synthesis to improve the appearance and elasticity of the skin.
Pure vitamin C (10%) brightens the complexion and protects against signs of skin aging.
Imperata cylindrica creates a water reserve which hydrates the skin for 24 hours.
Zemea and glycerin act in synergy to make the skin even more hydrated.
Hyaluronic acid and vitamin PP also hydrate the skin.
………………………………..
Usage
Keep the cap closed. Press the push button firmly until you hear a click. Shake well for 15 seconds and before each use. Unscrew the cap and collect the serum using the pipette.
Apply two drops morning and evening to the face. Close using the pipette cap.
For optimal effectiveness, use within 7 days of opening. Avoid the eye area.