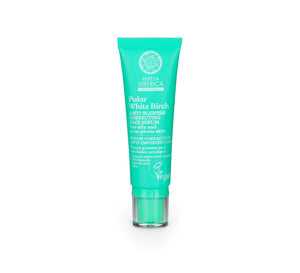 سيروم معالج للبشرة الدهنية والمختلطة المعرضة للحبوب، يخفف من ظهور الحبوب والرؤوس السوداء ويقلل من الالتهابات بفضل احتواءه على النياسينامايد والجلايكوليك اسيد والزنك
ANTI-BLEMISH CORRECTING SERUM FOR OILY AND ACNE PRONE SKIN SEE A DRAMATIC CHANGE AFTER USING THIS ANTI-BLEMISH CORRECTING SERUM. IT FIGHTS SKIN IMPERFECTIONS, PREVENTS ACNE AND BLACKHEADS, WHILST CALMING SKIN AND MINIMISING PORES.
Niacinamide: strengthens the skin's moisture barrier, whilst regulating skin balance.
Glycolic acid: perfectly brightens, tones up and evens out the skin texture.
Zinc: reduces the occurrence of acne and breakouts.