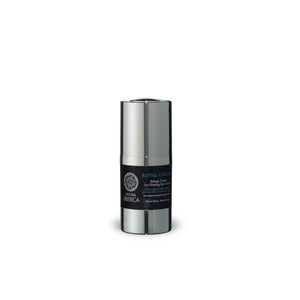 وصف المنتج
هذا الكريم الخفيف لبشرة العين الرقيقة لا يستهدف فقط علامات التقدم في السن ، ولكنه يوفر أيضًا ترطيبًا لفترات طويلة ترطيب البشرة بحمض الهيالورونيك و الجليسرين و كلادونيا الثلجية.

 ينعم التجاعيد بشكل فعال و يقلل ترهل الجلد ويزيد من كثافة الكولاجين بفضل إحتوائه على كمية كبيرة من البروتينات و الأحماض الأمينية و مستخلص الكافيار .
- يغذي مركب أوميغا 6 البشرة ، وبالتالي يمنع الجفاف والجفاف.
- مستخلصات Snow Cladonia المحصودة البرية والتي تحتوي على حمض أوسينين الفريد، ومركب Regu®- AGE تقوي البشرة و تساعد على التخلص من العيون المنتفخة والهالات السوداء.
- ونتيجة لذلك ، يتم تلطيف الخطوط الدقيقة والتجاعيد ، ويقل بشكل واضح الشعور بالانتفاخ والهالات السوداء أسفل العين ، ويتحسن تماسك البشرة ، مما يجعل عينيك تبدو منتعشة ومشرقة
without silicones, mineral oils & parabens, free from PEG, EDTA, BHT & BHA
15ml

Description
Eye cream targets the signs of aging and provides round-the-clock hydration.
Loaded with proteins and amino acids Beluga Caviar Extract effectively smoothes out wrinkles and reduces skin sagging, increasing collagen density. Contains hyaluronic acid for deep hydration. The Omega-6 complex nourishes the skin, thus preventing dehydration and dryness. Wild harvested Snow Cladonia extract, which contains the unique usnin acid, and Regu- AGE Complex strengthen the skin, help eliminate puffy eyes and dark circles.
As a result, fine lines and wrinkles are smoothed out, feelings of puffiness and dark under-eye circles are visibly diminished, and skin firmness is improved, making your eyes look fresh and bright.
0% silicones, 0% BHT-BHA, 0% mineral oil, 0% PEG, 0% parabens, 0% EDTA
15ml