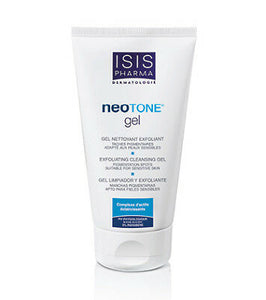 وصف المنتج
غسول مفتح و مقشر لإزالة التصبغات و توحيد لون البشرة يستخدم للوجه و الجسم، يحتوي على مواد مفتحة و مقشرة للحصول على بشرة نضرة بالإضافة إلى حبيبات صغيرة تعمل على التخلص من الخلايا الميتة و تجديد البشرة.ستخدم مرة الي مرتين باليوم.
150ml
Description
A whitening, exfoliating washing gel for face and body,it deeply cleans and exfoliates your skin to visibly reduce brown spots and pigmentations.
Neotone gel helps us to get a glowey face with a healthier look.
It's used one or twice daily.
150ml
Customer Reviews
08/01/2022
Amjaad A.

Jordan
Perfect
بفتح وبنظف منيح وفعال ضد الحبوب
12/12/2021
Fadia A.

Jordan