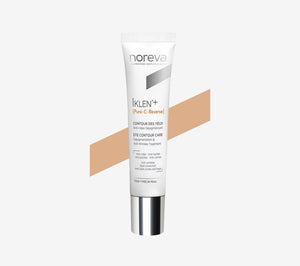 The Iklen®+ Eye Contour formula [Pure-C-Reverse] has been developed by experts to reduce dark circles and bags under the eyes, reduce spots, hydrate, smooth wrinkles and fine lines and plump up the eye contour.
The duo of biomimetic hyaluronic acids helps hydrate and increase the softness, suppleness and firmness of the skin.
Stabilized vitamin C improves the skin's defense capabilities, brightens the complexion and protects against signs of skin aging.
It acts in synergy with vitamin PP to reduce wrinkles and even out the complexion, as well as with 4-butylresorcinol to regulate the production of melanin and limit the appearance of pigment spots.
Red snow algae extract acts in synergy with vitamin PP to activate the skin's defenses, stimulate collagen synthesis and improve the appearance and elasticity of the skin.
Eye Care, extracted from Ximenia Caffra, helps reduce dark circles, bags and crow's feet wrinkles.
15ml