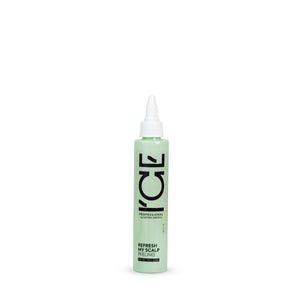 وصف المنتج
تقشير انزيمي لطيف لفروة الرأس، لجميع انواع الشعر.
ينظف فروة الرأس بعمق من القشرة والدهون والشوائب المتراكمة.
يساعد على تجديد الخلايا في فروة الرأس وتحفيز الدورة الدموية وبالتالي تحفيز نمو السعر بسبب احتواءه على حمض الشيكمك والنعنع .
يوضع على فروة رأس رطبة ويدلك به فروة الرأس ثم يغسل.
يستخدم مرة شهريا 
١٠٠مل 
Description 
Enzymatic head scalp peeling for all hair types. 
Peeling deeply cleanses impurities from within the hair follicle, cleanses scalp from sebum and dandruff.
Stimulates skin cells regeneration and blood circulation,
which promotes hair growth.
contains 
SHIKIMIC ACID cleanses impurities & exfoliates the scalp, perfectly regulates sebum production. The acid offers maximum absorbing
with minimized risk of irritation, as compared to other acids.

ORGANIC WILD MINT helps to return the natural, healthiest pH of scalp, improves blood microcirculation.

how to use.
Apply to damp hair, emulsify & rinse. Repeit if Not to be used for children under 3 years old.
Recommended use.
Once every 28-30 days – to maintain scalp health.
Every 28 days regeneration of scalp cells occurs.
The scalp peeling facilitates the formation of new
scalp cells.
First 4 weeks – once a week, then – once a month:
as a course against hair loss, increased production
of sebum, dandruff, psoriasis in remission.
100ml