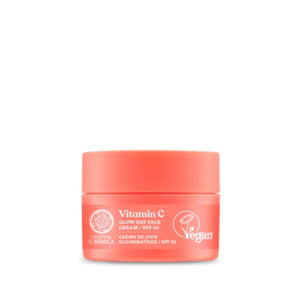 وصف المنتج
كريم الترطيب والنضارة النهاري لجميع انواع البشرة ، يعطي نضارة للبشرة ويخفف من علامات الارهاق والتعب ويحفز انتاج الكولاجين ويخفف من مظهر المسامات   
ويحتوي على عامل وقاية من الشمس 
Spf20
50ml
Description
THIS CREAM WAS SPECIALLY MADE TO COMBAT THE STRESSES OF CITY LIFE!
REFRESHES YOUR SKIN AND LEAVES IT WITH A NATURAL GLOW, REDUCING SIGNS OF STRESS AND TIREDNESS.
Organic Altai Oblepikha Oil Hydrates the skin and promotes the formation of collagen, a structural protein essential for skin's youthfulness.
Vitamin C helps to enhance your skin's natural defense system, speeding up the repair process.
Niacinamide helps to visibly minimise enlarged pores and soften fine lines.
with spf 20
50ml