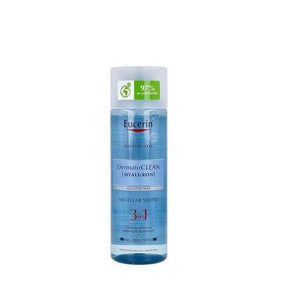 وصف المنتج
محلول منظف للبشرة ومزيل للمكياج, يزيل الشوائب ويرطب البشرة بسبب احتواءه على الهالورونيك اسيد. مناسب للاستخدام اليومي وللبشرة الحساسة 
200ml
Description
 Eucerin DermatoCLEAN 3 in 1 Micellar Cleansing Fluid is a refreshing, cleansing solution that: 
Removes all water-soluble eye and face make-up.
* Helps skin to breathe better.
* Is quick and convenient to use.
* Has been tested on, and proven to be compatible with, sensitive skin and eyes

It contains an innovative combination of active ingredients:
* APG Complex: an effective yet extra mild cleansing complex.
* Gluco-glycerol: a nature-derived moisturising active.
* Hyaluronic acidHyaluronic acid: skin care active with a high moisture binding capacity.

200ml