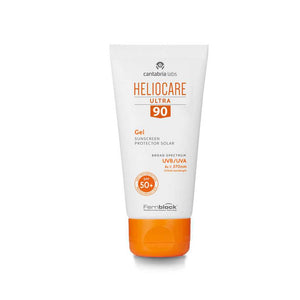 وصف المنتج
واقي شمس طبي عالي الحماية مناسب للبشرة الدهنية والمختلطة والعادية لان قوامه جل.
يحتوي على تقنيات متعددة تعمل على حماية خلايا البشرة من التلف والضرر الناتج من اشعة الشمس الضارة
يعمل باربع تقنيات للحماية من اشعة الشمس
Fernblock photoimmunoprotection
تعمل على حماية خلايا البشرة من التلف بسبب اشعة الشمس الضارة ومنع تكون التصبغات بسبب اشعة الشمس والحماية من تكون التجاعيد والخطوط الرفيعة
-يحتوي على فلاتر كيميائية وفيزيائية للحصول على اعلى حماية من اشعة الشمس
-يحتوي على مستخلص الشاي الاخضر وفيتامين E الذي يعد مضادات اكسدة قوية تحكي من تكون الجذور الحرة في البشرة التي تسبب التجاعيد ومنع تكون التصبغات
الحجم: 50مل
Description
Sun protection gel With rapid absorption, non-comedogenic, lightweight texture is perfect oily, combination, and normal. It does not dry or leaves white residue or mask effect on the skin.
Very high protection formulated with Fernblock®, sunscreens, and repairing and antioxidant active ingredients, which protects, neutralizes, and repairs sun damage. Specially designed for paler skin types or periods of increased exposure and sun intensity. Tested under dermatological control.
Size: 50ml
Customer Reviews
100
reviewers would recommend this product
Write a Review
I recommend this product
Heliocare sunscreen
The best sunscreen I've ever used
15/03/2022
Tasneem S.

Jordan
Nice product
كتيير لطيف على البشرة