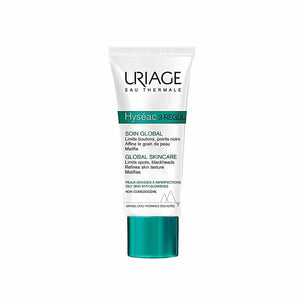 وصف المنتج
كريم متكامل لعلاج جميع مشاكل البشرة الدهنية
من حبوب ملتهبة ورؤوس بيضاء و رؤوس سوداء ومسامات واسعة وفرط افراز الدهون
يستخدم كل يوم ليلاً قبل النوم
40ml
Description
Face cream for oily skin with blemishes. This "all-in-one" global skincare product promotes the elimination of skin flaws (spots, blackheads, shine, pimples) and leaves the skin clear and matte.
Limits imperfections
It limits spots and blackheads with a high-performance complex of active ingredients and Uriage Thermal Water.
Refines the skin texture
Skin texture is significantly smoothed and pores tightened.
Mattifies
Limits excess sebum, the source of new blemishes, thanks to Liquorice extract.
 40ml