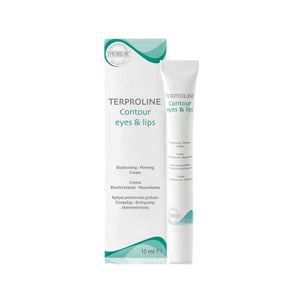 وصف المنتج
لمعالجة المنطقة حولين العين ويحتوي على مواد عديدة حاصلة على براءة الاختراع
يقلل من الهالات السوداء تحت العين
يقلل من انتفاخات منطقة اسفل العين
يعمل على شد الجفن العلوي ويقلل ترهله
يعمل على اخفاء التجاعيد حول منطقة العين .تعمل مواد هذا المستحضر على شد منطقة حول العين وزيادة افراز الكولاجين والهايلورنيك اسيد
15ml
Description
Eye cream and lips, this cream can visibly improve the skin's appearance in the periocular and perioral areas, enhancing elasticity and tone.
It also prevents the formation of wrinkles, smoothens fine lines, and has a noticeable soothing effect. It keeps the skin of the upper eyelid area in a good condition by counteracting "sagging" due to the effect of the force of gravity. It visibly reduces the appearance of "bags" and dark circles under the eyes.
Also recommended for use:
before and/or after treatments with alpha-hydroxy

 

acids

 

(AHA), chemical peels, and resurfacing treatments, including laser peels, performed in the area around the eyes and the lips;
before and after specific aesthetic procedures on the periocular and/or perioral area;
Directions
Apply once or twice a day, gently massaging until completely absorbed.
Size: 15ml.
Customer Reviews
23/09/2021
Aliya

Jordan
01/09/2021
Tasneem S.

Jordan
I recommend this product
جيد
صارلي شهر بستخدمه خفف من ال(eyebags ) بس ما راحو تماماً
20/08/2021
Tasneem S.

Jordan
I recommend this product
amazing
amazing helped alot
04/06/2021
Aya B.

Jordan