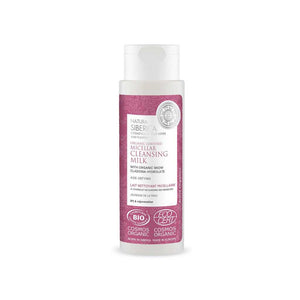 وصف المنتج
 حليب منظف للبشرة ومزيل عميق للمكياج وبالأخص المضاد للماء. مناسب لجميع انواع البشرة
ترطيب البشرة بحمض الهيالورونيك و الجليسرين و البانثينول.
مكافحة الشيخوخة و علامات تقدم العمر.
مضادات الأكسدة و محاربة الجذور الحرة.
حماية البشرة من البكتيريا.
تهدئة و تنعيم البشرة.
محاربة مسببات حب الشباب.
ترج العلبة, يوضع كمية كافية على قطنة ثم يمسح الوجه
خالي من المواد الضارة 
without silicones, mineral oils & parabens, free from PEG, EDTA, BHT & BHA
150ml
 Description
Gentle face milk cleanser. Removes makeup, leaving a feeling of purity, freshness, and comfort. Suitable for all skin types especially sensitive skin. Contains hyaluronic acid that deeply moistirize the skin. 
Mix the two liquids by shaking the bottle then pour a small amount on a cotton pad and remove makeup.
Free from silicones, 0% BHT-BHA, 0% mineral oil, 0% PEG, 0% parabens, 0% EDTA
 150ml