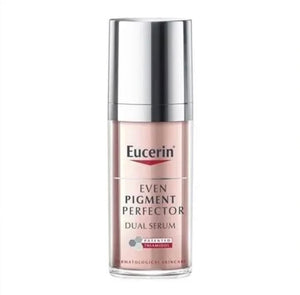 وصف المنتج
سيروم علاج التصبغات من يوسيرسن. يحتوي على الثياميدول والهالورونيك اسيد. 
مناسب لجميع انواع البشرة 
يستخدم ليلا فقط 

2x15ml
Description
Eucerin Even Pigment Perfector Dual Serum brings together two serums that work in different ways: Thiamidol: an effective and patented ingredient that acts at the root cause of hyperpigmentation is clinically proven to reduce hyperpigmentation, preventing its reappearance with regular usage. Concentrated Hyaluronic Acid: one of the skin's most effective moisturizing substances helps skin to attract and retain moisture.
For all skin types 
use at night 
2x15ml