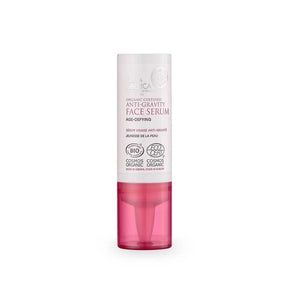 وصف المنتج
سيروم الوجه من ناتورا سيبيريكا لشد البشرة. يحتوي على الهالورونيك اسيد وسنو كلادونيا. مناسب لجميع انواع البشرة وبالاخص البشرة المتعبة والتي تفتقر للنضارة والترطيب
يعمل على
مكافحة الشيخوخة و علامات تقدم العمر.
مضادات الأكسدة و محاربة الجذور الحرة.
حماية البشرة من البكتيريا.
تهدئة و تنعيم البشرة.
تساعد على تفتيح البشرة و توحيد اللون.
محاربة مسببات حب الشباب.
الوقاية من الأشعة فوق البنفسجية.
تساعد البشرة على العلاج الذاتي.
خالي من  
without silicones, mineral oils & parabens, free from PEG, EDTA, BHT & BHA
15ml

 Description
Skin lifting and firming serum deeply moisturize dehydrated skin & redefines contours. Contains hyaluronic acid and snow Cladonia. Suitable for all skin types. 
Free from silicon, BHT-BHA, mineral oil, PEG, parabens, EDTA
 15ml